Molecule Asia offers the most stylish cargo pants I have come across. Their Himalayan Hipster cargo pants are made of 100% heavy cotton and the seams are double stitched for both style and durability. They feature several cargo style pockets that button shut for added security. The back pockets feature functional ties to keep them closed. The front pockets are stitched on top for style and nice and large. These hispter's also have double-button waist fasteners that look fantastic and give it that true military look.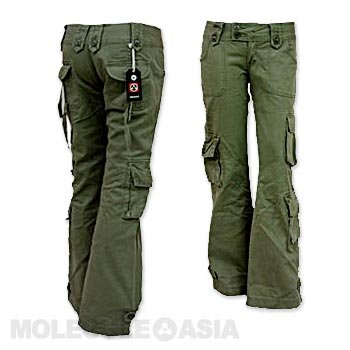 These pants ride low on your hips – hence the name hipsters – and look amazing on to accent your figure. The thighs are snug and flare down to a wide leg that brushes the ground. They are extremely soft and comfortable to wear. The style is very flattering without being at all restrictive. They wash well and continue to look good even after multiple washing  Colors available are coal black, desert khaki cream, sunset shadow grey and field green.
In Molecule's Himalayan Hipster Pants you'll be as comfortable hiking the Himalayas as checking out trendy caf?s in durable, stylish, hip-hugging beauties with loose-legged, airy freedom and extra pockets. Choose your adventure palette in green, or stylish solids like black and grey for wilderness or urban exploring. These hispters also have double-button waist fasteners (stylish!), a button-down pant-leg-base flap, and general style that will make folk talk.
These are a slim cut, and with a low rise, aka hipsters. They will be fairly tight on your thighs and low on your hips – if you don't like a very tight fit, please take a size larger than you usually would.
Because Molecule Clothing is located in Thailand, their sizes run a bit differently than ours do here in the United States. They have a handy sizing chart that shows you how to choose the size that's correct for you. Be aware that these pants are meant to be snug and slim fitting. They are not designed for plus sizes or very curvy women. Sarah 18 wears a 6 and I wear an 8 and their XL size fit us perfectly. If you are larger than this size, you may want to look at another one of their styles that is not meant to be so snug.